Headed to a classy Halloween party? Perhaps time-traveling back to the 1920's? Here's some outfit inspo!
**~**
Since Halloween is pretty much my favorite time of year, I really wanted to do a daily post of fun Halloween things. And in the spirit of the many TV marathons and specials I watched growing up, it's gotta be a 13 day countdown!
So each day I'll have a book/story recommendation (mostly short stories for which I'll provide links) along with a couple fun Halloween-type things-- maybe TV specials to check out, a neat Halloween snack or craft, a bit of haunted history, or some miscellaneous spooks like vintage Halloween costumes, creepy youtube videos, unique decorating ideas, etc. We'll just have to see what I come up with. So let's do this!
To read:
The Tell-Tale Heart by Edgar Allen Poe
-I thought I'd start things off with a classic. I read this when I was 14 and it's been one of my very favorite stories ever since. I wont go into a summary or anything but if somehow you've missed this story, now's the time to read it!
To watch:
Supernatural Season 1 episode 5- Bloody Mary
Supernatural Season 1 episode 17- Hell House
-I picked these because they're early in the series so there wont be too much confusion about demons and angels and everything else for those who don't watch regularly. They're enjoyable on their own- you don't have to be involved with the characters or the overarching story to understand what's going on. More than that they're great spooky stories- Bloody Mary is a familiar tale as is the concept of a haunted house- but each has a bit added to the story that makes it feel fresh.
(where to watch: Netflix)
And you'll need a snack while you read and watch your spooks!
How about some peanut butter and jelly skull sandwiches?
They're easy to make (found 'em in this super cute craft book). Just get some white bread rolls instead of regular bread and some chocolate frosting. If you don't have one of those fancy frosting pen thingies just use a plastic bag. Snip a tiny little hole in the bottom corner and you've got yourself a frosting pen! Draw on the eyes and little mouth stitches. (They also use pink for the cheeks on this one, but that's stupid- skeletons don't have pigment!) Once the frosting is dry just smack some PB&J on there (or whatever you want, as long as it looks bloody!). Great for parties or for just having a pleasant afternoon with Poe & the Winchester boys. :]
**~**
To read:
This short story. It's on Creepypasta and it's called No End House. It's pretty unnerving and I thought it was very creative! I know the beginning is kind of meh, but power through it. It's totally worth it.
Venture out!
Find somewhere near you that's rumored to be haunted and go explore! During the day. With a friend. Don't be a horror movie stereotype and go off alone or be a dick out loud in a haunted graveyard talking about ghosts not being real... because like yeah we know they're not but you know... just in case.
I've had some awesome adventures investigating old graveyards- in my hometown there's one in particular that I love called Oakdale. It's huge and creepy but it's also ridiculously beautiful. I feel like I'm in an Anne Rice novel when I walk around there. Creepiest part: there's a whole section up on a hill of the graves of children who died of Yellow Fever. Also in my hometown is the Bellamy Mansion which my friends and I sneaked into after hours one night- the back door to the upstairs bathroom had been left open! We got about ten steps in before the alarm went off and we booked it. But still, being in a creepy Antebellum mansion at night was awesome even if it was only for a minute or so.
Here in LA I have the Roosevelt Hotel on my list of places to visit as well as the Cecil Hotel and the cemetery where Marilyn Monroe is buried. Also the Queen Mary, which has one of those haunted tour things which hopefully the boyfriend and I are going to do soon!
Here's a list of haunted places in America, see if you can find one near you!
**~**

To read:
Heart Shaped Box by Joe Hill
This is a full length novel but it's just so wonderfully creepy I had to include it. A really great modern ghost story.
To watch:
The Addams Family (1991)
This is one of my favorite movies, I watch it every year! The aesthetic is amazing, casting is perfect. And Morticia and Gomez are my all time favorite fictional couple.
(where to watch: Netflix)
Get your pumpkin spice fix!
$5 dollar dessert-coffees not your thing? Try Trader Joe's pumpkin spice pancakes- we made some this morning! I also highly recommend pumpkin spice Oreos dipped in your favorite hot coffee. Pure decadence. If you want to get fancy with it, here's 28 pumpkin spice recipes to browse.
And here's some Halloween decoration inspo (if you want to give any of these a try, the pics are linked to the source):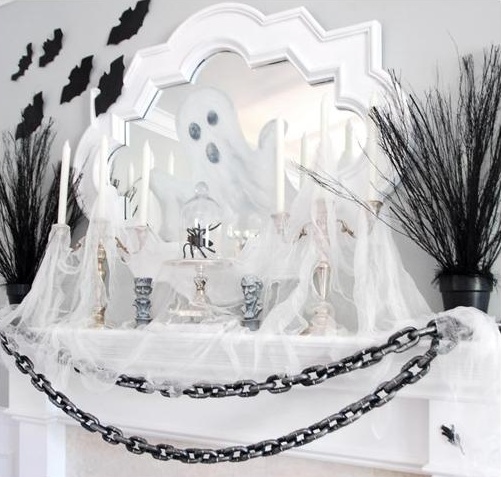 **~**
To read:
The Woman in Black by Susan Hill
After searching for years I finally found a copy, and just in time for Halloween! It was written in the 80's, but it's a classic Gothic ghost tale. It's got all the classic spooks you're looking for- 'a rocking chair in a deserted nursery... a child's scream in the fog, and, most terrifying of all, a ghostly woman dressed all in black.'
I haven't started it yet, but I've heard good things and I loved the movie- check that out as well! Click here for the trailer.
(How cool is this movie poster? It's like an old Gothic novel.)
To eat:
Give your weekend festivities a little Halloween flair! Enjoying chili or soup in the October chill? Add some cute toast ghosts! They're super easy to make. Just take some white bread and use a small kitchen knife (or a small ghost shaped cookie cutter, if you've got it) to make cute little ghost bodies. Then use a coffee stirrer to poke holes for eyes and a straw to poke a hole for the mouth. Put a pan of butter (or butter substitute - Earth Balance is amazing in case you're looking for one) over medium-low heat and fry the little ghosts 'til they're golden brown. You can even season them and put them on salad!

If you're having a warmer October, as I am, a more refreshing snack might be in order. Make these tangerine jack-o'-lanterns to bring a little spook to your brunch! Use a toothpick to poke the dotted lines of a jack-o'-lantern face onto the tangerine. Then take a small kitchen knife and cut through the peel (but not into the fruit flesh) along the dotted lines and slip the knife under the peel at an angle to remove the pieces. Brush the exposed fruit flesh with lemon juice to preserve freshness and color up to five hours! Perfect for Halloween parties!
[Both of these are from this book- it's got so many awesome craft ideas! I'm not even a crafty type but I had to buy it.]
To do:
Go to the nearest (and oldest) used bookstore and look through the vintage titles for books on the occult- like ghosts, vampires, witches, and other myths. You might find something on Spiritualism if they have really old stuff, but even things from the 60's and 70's are pretty awesome, like the Montague Summers one pictured below- it's got a lot of research from much older texts within it. Old books like that just feel magical- as far as occult books go, generally speaking the older they are the more rare they are, but they're not always expensive. When you find a really old one it feels like you're going to open it to reveal some ancient secret and start some grand adventure...
I have a few, none are too old though. These are the ones that I have with me:
It's also fun to look through the paperbacks for cheesey 70's and 80's books on the occult and for old Gothic romances. I'm pretty picky about these, but the ones I do have I love!
The sad fact is, not everyone is lucky enough to have a rad used bookstore nearby. If that's the case, how about some creepy crafts?
I love love love these no-carve pumpkins. I never get pumpkins because carving them is such an ordeal- I want to try this next year! (Click the photos to link to the directions.)
Or, if you're especially crafty how about making your own festive pillows?
That's all I've got for today, hopefully you can find something in the list to enjoy on this fine Saturday in October. :] Keep it spooky!
xoLuna
**~**
Today I'm recommending one of my very favorite movies, From Hell. It's about an opium addicted somewhat psychic detective working on the Jack the Ripper case and it stars good ol' Johnny Depp.
I would go into a whole thing about why you should watch it, but I'm about to put it on right now so I'm just going to post a couple of pics. I would post a trailer, but it came out in 2001 so the official trailer has that corny movie voice and doesn't reflect the actual atmosphere of the movie at all... it is a truly horrible trailer. So just trust me. It's not a cinematic masterpiece or anything, but it's a cool movie.